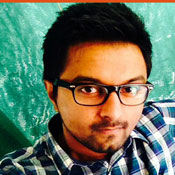 Farhan Patel
Image Analyst Supervisor
Mr. Farhan Patel has completed his M.Sc. in Geomatics from CEPT University in 2014. He holds his bachelor degree in Bachelor of Computer Application from SOM-LALIT College. He has done his Internship on "Utilization of Geospatial Technology to Enhance Mining Activities". He has completed his Dissertation project on "Web and Mobile Based GIS Application for Forest Right Act Implementation" From IIT, Mumbai.
Beside this he has carried out a Land-use survey near Manek Chowk, Ahmedabad and prepared a digital map as a part of project. He is having knowledge of Programming languages like C, C++, DBMS, Java, UNIX, VB.Net, Asp.Net, PHP. He has worked with softwares like Postgres, Postgis, Geoserver, ArcGIS Desktop, Quantum GIS, Global Mapper, ERDAS Imagine, ENVI, NEXT ESA SAR Toolbox, PolSAR, Leica photogrammetry. He has Analyzed Urban Sprawl of Palitana (Bhavnagar district, Gujarat) by taking in to account transportation as well as land use parameters. Before joining UXO. He was working as Junior Research fellow In CEPT University for 6 months On ISRO project called "Dessertification".